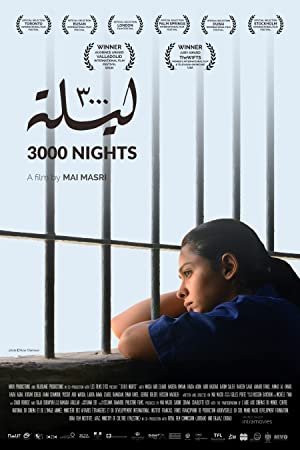 3000 Nights (2015)
Origin: Palestine/Jordan/Libanon/UAE/Qatar | Fiction | Director: Mai Masri | 103 minutes
---
3000 NIGHTS
Mai Masri ficvtion 103 min. Palestine, Jordan, Lebanon, France, United Arab Emirates and Qatar 2015. Arabic and Hebrew spoken, English subs.
Layal, a young newlywed Palestinian schoolteacher is arrested after being falsely accused and is sentenced to eight years of prison. She is transferred to an Israeli women's prison, where Palestinian political prisoners are incarcerated with Israeli criminal inmates.
The prison director pressures her to spy on the Palestinian inmates. While in prison, Layal gives birth to a baby boy.
Against all odds, she manages to find a meaning to her life. As prison conditions deteriorate and the Palestinian prisoners decide to go on strike, Layal is forced to make a choice that will forever change her life.
Director's interview: https://www.youtube.com/watch?v=EtikO0Ll6Nk
Trailer: https://www.youtube.com/watch?v=tbKDxsvuhNg
---
View trailer