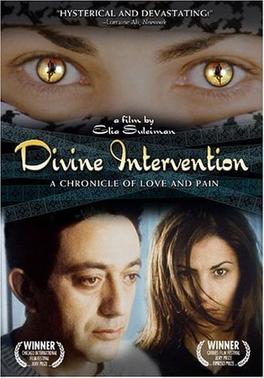 Divine intervention (2002)
Origin: France Morocco Germany Palestine | Fiction | Director: Elia Suleiman | 92 minutes
---
Divine intervention
Suleiman, Elia
Packed with witty visual gags, comic vignettes and moments of spectacular
fantasy, the multiaward winning Divine Intervention is a portrait of the
conflict laced with wicked and subversive humour. Palestinian director Elia
Suleiman (Chronicle of a Disappearance) again plays the central character
himself: "E.S." cares for his ailing father in Jerusalem whilst conducting
an affair with a Palestinian woman living in Ramallah. Barred from moving
between the two cities, the lovers are forced to share their intimate
moments in the shadow of an Israeli army checkpoint, from where they
observe the daily feuds between the troops and civilians. Recalling the
comic genius of Jacques Tati and deadpan delivery of Buster Keaton,
Suleiman's film is a passionate and surreal depiction of the political and
human situation in Palestine. Winner, FIPRESCI Prize, Cannes 2002. Winner,
Jury Prize, Cannes 2002.
Director's interview: https://www.youtube.com/watch?v=bSdme1UrpLk
---
View trailer