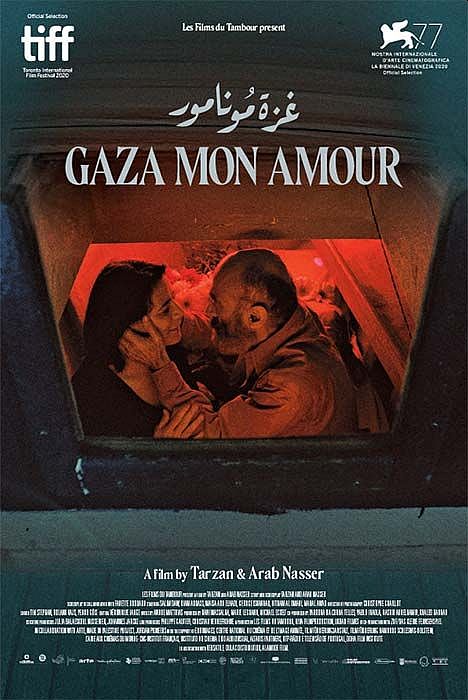 Gaza mon amour (2020)
Origin: Palestine, France, Germany, Portugal, Qatar | Fiction | Director: Arab Nasser, Tarzan Nasser | 87 minutes
---
Gaza, today. Sixty-year-old sherman Issa is secretly in love with Siham, a woman who works as a dressmaker at the market. Finally determined to propose, he discovers an ancient statue of Apollo in his fishing net, which he decides to hide at home. When Hamas discovers the existence of this mysterious treasure, troubles start for Issa... Will he succeed in declaring his love to Siham?
Toronto International Film Festival 2020 Winner NETPAC Award.
Directors' statement
With this film, as with our previous work, we seek to give a glimpse of everyday life on this small piece of land called Gaza. It is a strange place, where the simplest situations can turn out to be immensely complicated. While stuck in this gloomy situation, our protagonist sees life differently. Issa is a romantic and, despite the conservative traditions of his country, despite his age, despite the endless political problems, he makes a stand for the right to love, which makes him a true resistant. The tone of the film may be funny, dark or even bitter at times, but above all it is tender and melancholic, just like Issa and Siham. The most beautiful stories are sometimes the simplest.
Source: Biennale Cinema
---
View trailer