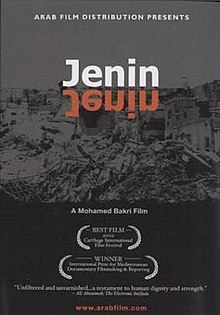 Jenin, Jenin (2002)
Origin: Palestine Israel | Documentary | Director: Mohammed Bakri | 54 minutes
---
Initially banned by the Israeli Film Board and still a source of controversy, Bakri's documentary bears witness to the aftermath of the April 2002 Israeli reconquest and partial demolition of the Jenin refugee
camp. The documentary hears survivors presenting their own testimony and presents an often harrowing portrayal of a Palestinian community responding to trauma.
Winner - Carthage International Film Festival - Best Film, 2002.
In 2021 an Israeli court ruled that screening or distributing Mohammed Bakri's controversial documentary "Jenin, Jenin" should be banned and that all copies of it should be seized.
Lod District Court Judge Halit Silash also ruled that actor and director Bakri must pay 175,000 shekels ($55,000) to a reservist who appears in the film as a participant in the battle in the Jenin refugee camp in 2002. The film suggests Israeli soldiers committed war crimes in Jenin during Operation Defensive Shield.
Full article: https://www.haaretz.com/israel-news/.premium-israeli-court-bans-2002-documentary-jenin-jenin-following-soldier-s-libel-suit-1.9443122 (premium content)
Trailer: https://www.youtube.com/watch?v=pzNkizAZyVo (1 min.)
https://youtu.be/ZE2-KfY25Xw?list=PLD989FADB7A2BD578 (9 min.)
Full feature: https://www.palestinefilminstitute.org/en/pfp
---
View trailer