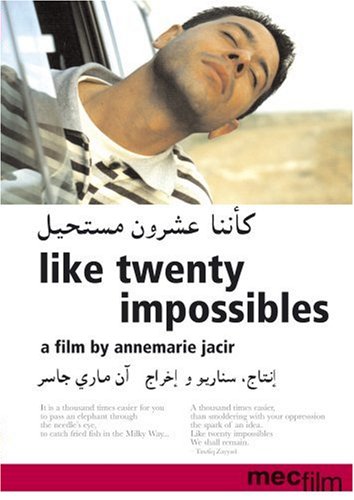 Like twenty imposibles (2003)
Origin: Unknown | Fiction | Director: Annemarie Jacir | 17 minutes
---
Like twenty imposibles
Annemarie Jacir 2003 fiction 17 min.
When a Palestinian film crew decides to avert a closed checkpoint by taking
a remote side road, the political landscape unravels, and the passengers
are slowly taken apart by the mundane brutality of military occupation.
Both a visual poem and a narrative, 'Like Twenty Impossibles' wryly
questions artistic responsibility and the politics of filmmaking, while
speaking to the fragmentation of a people." (from the director's website).
Trailer: https://www.youtube.com/watch?v=8J1DEboNzMI
https://iffr.com/en/2017/films/Like-Twenty-Impossibles
---
View trailer