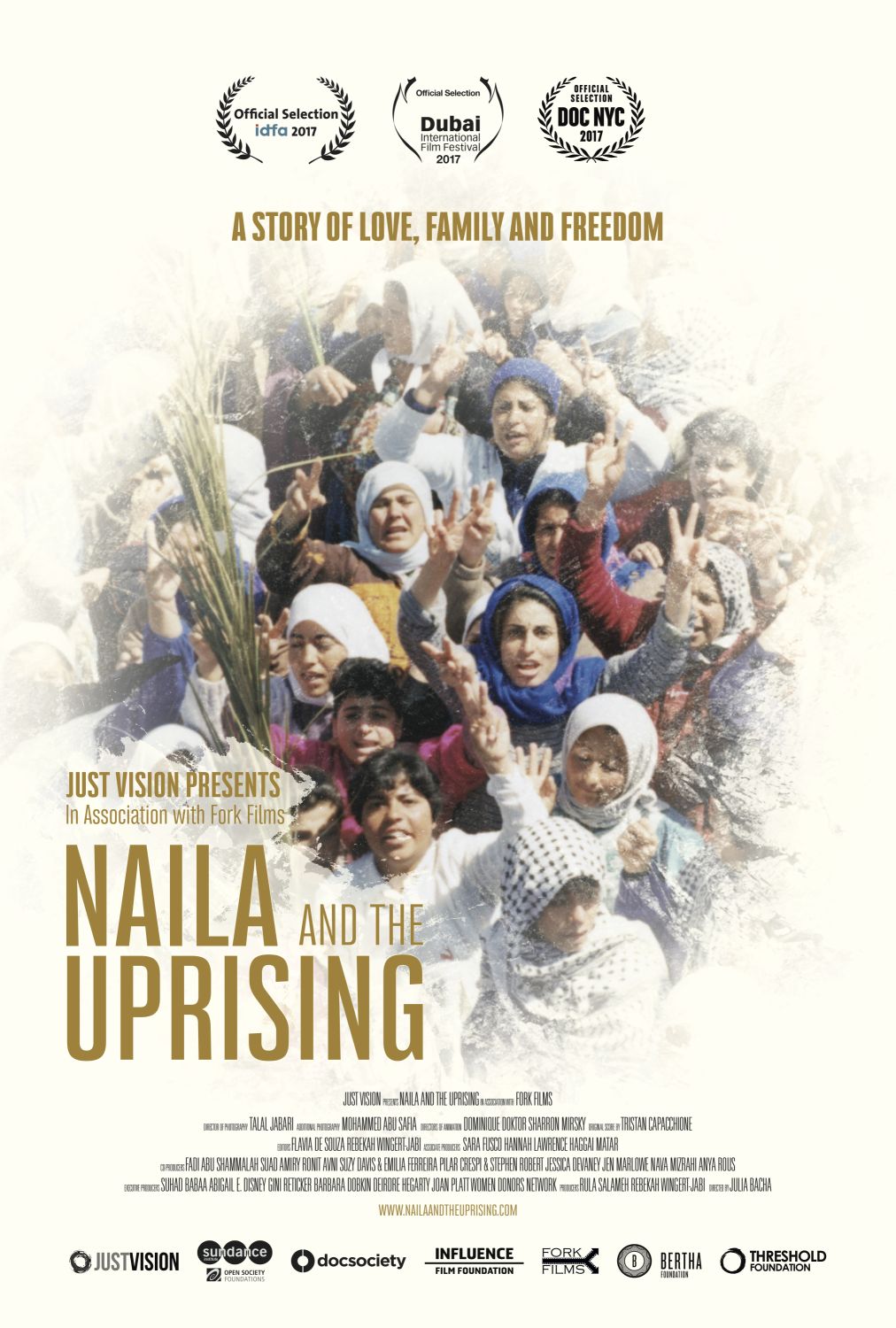 Naila and the Uprising (2017)
Origin: Palestine | Documentary | Director: Julia Bacha | 75 minutes
---
Naila and the Uprising
Dir. Julia Bacha – Documentary - Palestine, United States – 2017 - 75 min
A personal portrait of the Palestinian resistance leader Naila Ayesh, who joins an underground women's network that led a civil resistance movement during the First Intifada in 1987. Their non-violent protests against Israeli occupation brought the Palestinian cause to the attention of the world. Ayesh always insisted that the two peoples living on the same land should have equal rights, without one oppressing the other. Archive footage of the intifada and older news excerpts featuring Ayesh are complemented by private footage of her family life, showing us the price she had to pay to pursue her political struggle. Minimalist animations accompany the more dramatic episodes. According to many of the people interviewed, the central role played by women in the Palestinian resistance seems to have been easily forgotten. They look back at the events that eventually led to the Oslo peace talks—but not without a struggle, as evidenced by the violent arrests, intimidation and torture of Ayesh and her fellow protestors.
Credits
• 75 min
• color
• DCP
• Spoken languages: Arabic, Hebrew, English
• Subtitles in: English
Director Julia Bacha
Production Rula Salameh for Just Vision, Rebekah Wingert-Jabi
Executive producer Suhad Babaa for Just Vision, Abigail Disney, Gini Reticker, Barbara Dobkin, Deirdre Hegarty, Joan Platt, Women Donors Network
Cinematography Talal Jabari, Mohammed Abu Safia
Editing Rebekah Wingert-Jabi, Flavia de Souza
Music Tristan Capacchione
Screening copy Just Vision: https://www.justvision.org/
Trailer: https://www.youtube.com/watch?v=zotlaEEnSZw
https://www.youtube.com/watch?v=yFy76q-w8tA
---
View trailer