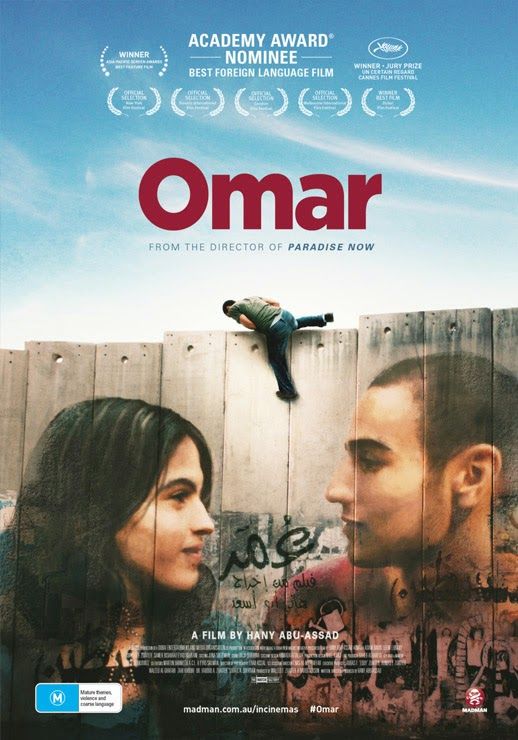 Omar (2013)
Origin: Netherlands Palestine | Fiction | Director: Hany Abu Assad | 110 minutes
---
Omar
Hany Abu Assad 2013 fiction Netherlands 110 min.
Omar (Adam Bakri) is a Palestinian baker who frequently climbs the West
Bank barrier to visit his lover Nadeen (Leem Lubany), a high-school girl
whom he intends to marry. After being beaten and humiliated by a group of
Israeli soldiers, Omar and his childhood friends Tarek (Eyad Hourani) and
Amjad (Samer Bisharat) stage an attack on an Israeli checkpoint. During the
attack, Amjad shoots and kills an Israeli soldier. Later, Omar and his
friends are subsequently pursued by the Israeli authorities. During the
pursuit, Omar is captured and imprisoned by the Israeli authorities. Facing
a lengthy prison term, Omar is forcibly coerced by an Israeli agent named
Rami (Waleed Zuaiter) into working as a double agent for the Israeli
authorities. Agent Rami secures Omar's release in exchange for the latter
bringing Tarek to the authorities.
Due to his early release, Omar is stigmatized by many in his community as a
suspected collaborator. Omar's predicament is further complicated by the
fact that his lover Nadeen is Tarek's sister. Due to Omar's delays in
keeping his side of the bargain, he is arrested again by the Israeli
authorities. During his imprisonment, he makes a second deal with Agent
Rami in order to find out who is betraying the Palestinian militants. Omar
later learns that his friend Amjad is the mole. When confronted, Amjad
confesses that Nadeen is pregnant with his child and that the Israelis had
used that to blackmail him into working for them. Omar forces Amjad to
confess to Tarek. During an ensuing struggle between the three men, Tarek
is killed when his gun accidentally goes off. With the help of Agent Rami,
Omar and Amjad managed to hide their involvement in Tarek's death.
Two years later, Omar visits Nadeen and finds he was totally betrayed by
Amjad who was not having an affair with Nadeen and is now married to her
with two children. She still loves him and finds Amjad did not deliver
letters she wrote to him before marriage.Then he is revisited by Agent Rami
who attempts to coerce him into killing another ringleader. By this stage,
Nadeen has abandoned her studies and become a homestay mother to two young
children. Omar then contacts Agent Rami, trading his assistance of
capturing the new ringleader of the Jerusalem Brigade for a gun, under the
Pretext of killing Amjad. The movie then cuts to a scene where Omar is
brokering a deal with the new ringleader, detailing how he wants to be the
one who beats Amjad, foreshadowing events that would occur offscreen.
During a meeting with Agent Rami, Omar tricks the former into giving him a
gun. Omar instead uses the gun to kill Agent Rami as an easy way out, but
the outcome of Amjad is left unclear.
Trailer: https://www.youtube.com/watch?v=WJn7vCy9M6Y
---
View trailer