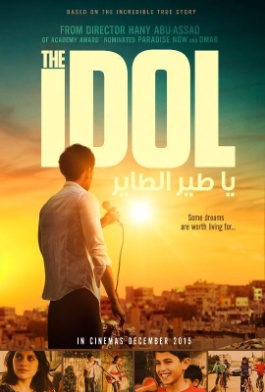 The Idol (2016)
Origin: Palestine, Netherlands, Qatar, United Arab Emirates | Fiction | Director: Hany Abu Assad | 98 minutes
---
The Idol
Abu Assad, docudrama 98 min, Palestine, Netherlands, Qatar, United Arab Emirates,
Biopic of Palestinian singer Mohammad Assaf, whose winning of the pan-Arab version of TV talent show Pop Idol in 2013 led to a moment of national pride and unity in Palestine, which finally had something to celebrate on the international stage.
Palestinian-Dutch director Hany Abu Assad (who received Oscar nominations for Paradise Now, 2005, and Omar, 2013) shows the tough circumstances in which Assaf, first as a little boy in Gaza, and later in his twenties, grows up to be a singer. The Israeli occupation continuously plays a role in the background, such as when Assaf and his friends - as well as his feisty sister who suffers from kidney failure - cycle along the separation barrier. From the wedding parties at which he makes his singing debut as a boy to the enormous pressure he feels during the final of Arab Idol, with all of Palestine glued to the tube, Assaf always embodies his country, yearning for freedom.
Trailer: https://youtu.be/sjBXZDR3F1E
---
View trailer